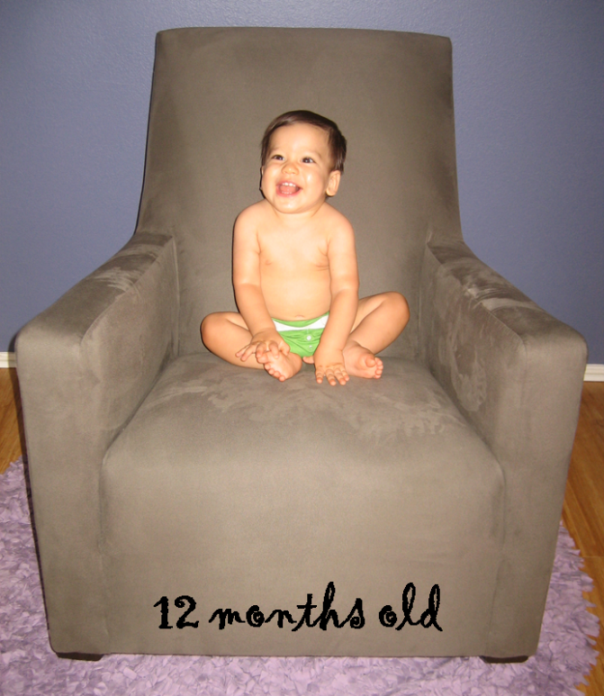 7.9.10
IJG loves to point at everything, clap, and smile (now always with his tongue squeezed out between his teeth). He enjoys 'rolling his Rs' which he picked up after I demonstrated a few times. He also likes spitting, which is a lot of fun when he has a mouthful of food. He loves playing in water. He loves flipping through books and his teacher at school is very impressed with his page turning. He can now climb an entire flight of stairs. He can walk quite well if he holds one of my hands but still not unassisted. He does let go of things and balance for several seconds unassisted before falling and always laughs when doing this. On occasion he will also attempt a step or two before falling. Here's the first time I captured a pic of him free standing.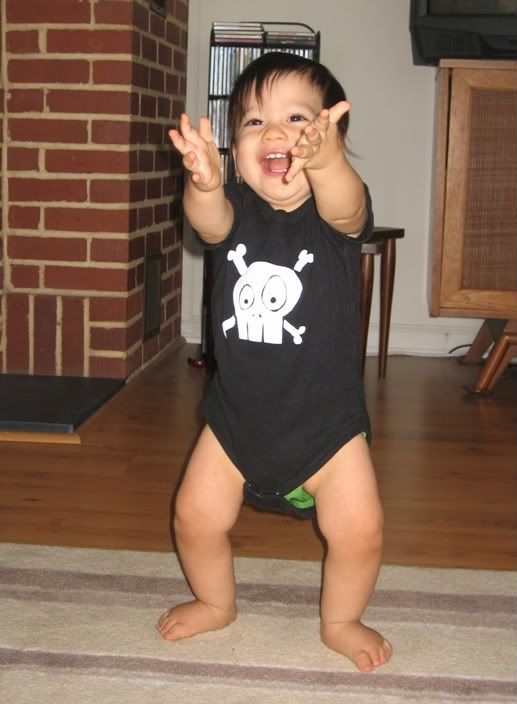 7.4.10
IJG is getting more used to eating chunkier purees and now loves eating his organic O cereal. He will eat several and just keep putting them in his mouth with the others until they soften. He is still working on eating fruit with his fingers but it's often too slippery. He prefers to eat if I hold a piece of fruit and he bites from it. He had nectarines and beets for the first time this month. He has a multivitamin and probiotic added to his breakfast each day.
IJG's schedule has remained the same this month. I only give him a morning nap at home if he seems really sleepy or if we are out and he naps in the car or stroller. Otherwise he takes one afternoon nap approximately 11:30-1:30 pm and sleeps 10 hours at night.
IJG went on his first plane ride this month and flew to NJ with us where we stayed for a week. He did quite well and luckily slept through part of each flight. I was even able to watch a movie on the flight home. He loved looking over the seats and smiling at everyone. He had his 1st birthday party on July 4 at great grandma's home and during the week met all of his extended family. On his actual birthday we made hand and footprints.

Here he is looking out the window on the flight to NJ and leaving the airport in Houston after the flight home.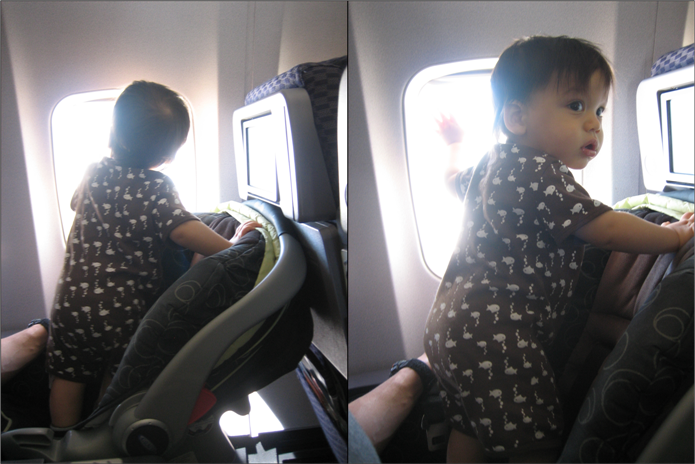 7.1.10
7.8.10
IJG has been sick ZERO times this month! He has gone a record 6 weeks without getting sick. He has been seeing his chiropractor once per week this month. Regardless, his ears have not cleared the fluid remaining from past infections.
He now weighs about 20.5 pounds.
Here's IJG's first year at a glance: