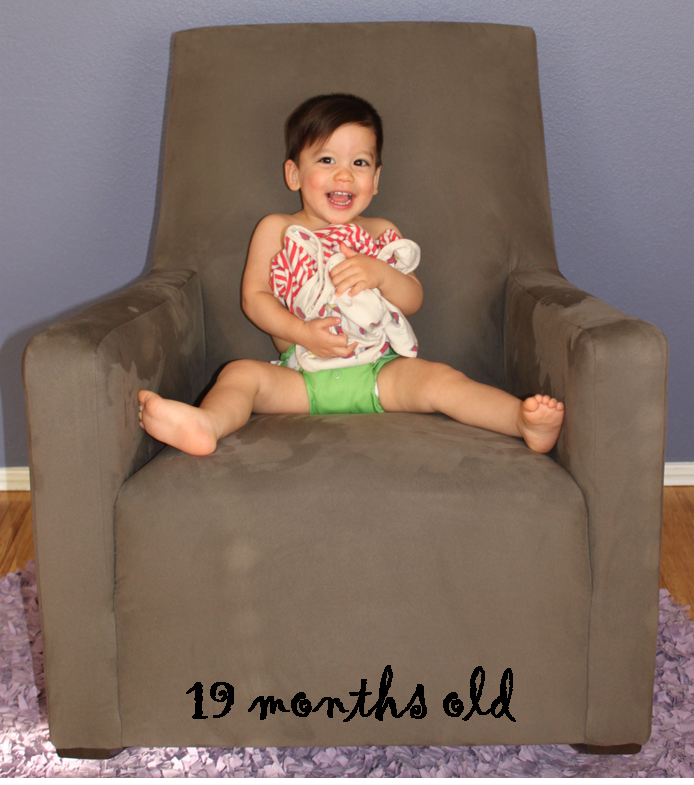 2.6.11
IJG started saying car, up, run, go, no, dada, tree, bubbles, squirrel, doodoo, bottle, nose, knee, and date (the kind he eats) this month, bringing his total to 27 words and more than doubling the amount he was saying last month. He likes to point at different areas of the house where his dada can be found and say "dada" during the day while we are home alone. He also started pointing at random men he sees and calling them dada, which can be embarrassing. He refuses to call me "mama" even though he knows it's my name and is able to say it. He continues to enjoy animal sounds and his favorite is to "roar" like a lion. He has started shaking his head "no" quite a bit. We have been working on counting and he will mimic us by pointing to each object and making 'counting like' sounds. If we sing E I E I O, he says "Ohhh" at the end.
IJG likes watching vehicles go by, hearing loud engine noises, being outside, throwing away garbage at parks, climbing on anything, petting, hugging, and kissing his dogs and any other dog he meets, reading books, being chased, seeing/blowing bubbles, and stripping/dressing himself (especially when he is supposed to be napping). He loves to hug us but is getting very picky about giving out kisses (except to dogs/toys). He loves his blankie and has to have it with him everywhere. He has learned to snap his car seat and highchair buckles and loves doing that.
I think he has improved a bit with being gentle with other kids. I don't worry about what he is going to do now when we are around other children. His teachers have said he's been gentle at school also. He did get bitten one day but at least he didn't bite anyone. He has started hugging random kids at the park once an older child hugged him repeatedly.
IJG's schedule has remained the same. Although he has been waking up at random times during the night and refusing to go back to sleep in his own bed. We have started just keeping him in our bed once he wakes. IJG got sick with what appeared to be a cold and then after a few days lost his appetite, couldn't sleep and was miserable. He ended up having strep throat (along with a virus) and he shared with his family. All three of us had to be treated for strep. He went on a nursing strike while sick, most likely because he couldn't breathe and his throat hurt, but then continued to nurse infrequently once he was better. A week into his strep treatment he became snotty again, but it didn't progress into anything more. His bowel movements did return to normal about two weeks ago after being strange for 6 weeks.