ZJ's actual birthday happened to be my work day at her school so I was able to spend the morning with her and NJ decided to take the morning off to spend time with her too. He stayed the entire morning with her and got to experience her school day.
ZJ's school celebrates birthdays by presenting a fake, reusable birthday cake while the children sing "happy birthday." They also get to wear a crown all day at school and take it home.
Then the 3 of us went out to lunch.
ZJ had her favorite, avocado rolls and ate 2 entire orders.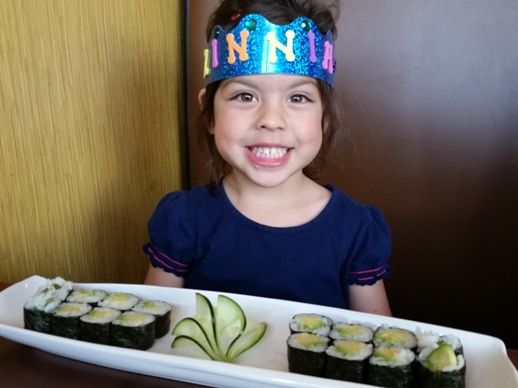 That evening we had chocolate chip pancakes for dinner and gave ZJ gifts from our family. NJ and I surprised her with her new mermaid bed, including the purple quilt, new pillows and a handmade, custom mermaid doll. IJ gave her a mermaid puzzle.
The following Saturday we had another celebration with NJ's parents and I made a chocolate ice cream cake for ZJ.
She ate that entire giant slice with no problem.
The following day we had yet another birthday celebration. This one was the birthday "party" as far as ZJ was concerned. We invited her friend and her friend's brother. The brother is in IJ's class and ZJ has become friends with his sister from playing at their brothers' soccer games. They gave ZJ a stroller and a baby doll, we had a tea party and I painted both girls' toenails.