So far we've only purchased 2 baby items.
The first was a stroller. We spent some time researching to find a quality, multi-
tasker
, chose the one we wanted, and then found it on
eBay
. We won the stroller for a good deal less than it costs in regular stores in the second auction we bid on.
Phil & Teds Dash Stroller
It becomes an
inline
double stroller with the addition of a second seat, that comes with the stroller.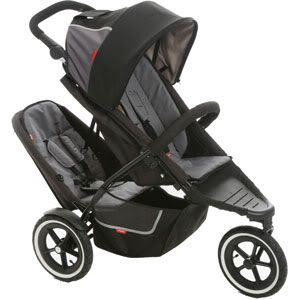 It also does all of this:
The second item we purchased was a rocking chair. This also took a lot of research and
comparisons
. The problem is that most rocking chairs/gliders are hideous or absurdly expensive. This one ended up my favorite. There are several color choices for chair/lumbar pillow. I chose grey & black because the rocker will stay in my bedroom, where there is the most room to set up a little breastfeeding station.
Monte Alto Rocker
I can't believe we've only purchased 2 things, but we are waiting until after our baby showers to purchase the remaining necessities.