IJG is finally entertained by toys!!! On Saturday we got him a play gym after finding out IKEA makes a wooden one for $25. He seems to like it. He accidentally spins the pieces on the sides while flailing around.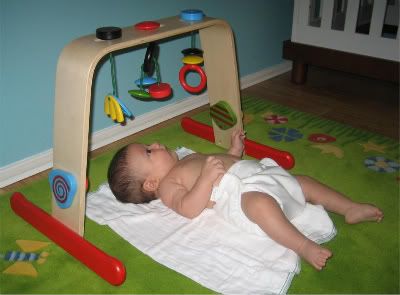 While he played, I used the time to sort through his clothing and see what should fit when we go to Colorado next month. I put pants on him for the first time. They were a bit too long, but I'm trying to buy winter clothes that will fit when Texas winter arrives and be usable in Colorado.
9.12.09
He is also finally enjoying his bouncy chair. We bought this when he was a few weeks old so I'd have somewhere to put him when I'm downstairs. He's never liked being in it. He'll sit for a few minutes and then start screaming. Now, he's looking at the toys hanging from it and having a good time. This morning he sat there for at least 15 minutes.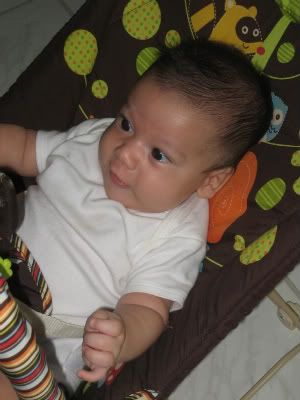 9.15.09