For IJ's 5th birthday we wanted to redo his room. He was still in his crib turned toddler bed with original custom NJ artwork (seen
here
). We turned his room into an outdoor/bike themed room which allowed us to reuse his cool curtains. NJ worked for several weeks building his twin size bed. We took the twin mattress from ZJ's room and gave her the toddler bed.
NJ collected used bike parts from a few bike shops for art. A wheel was painted green and placed over the dresser to be used as a piece to display pictures and other things. Another wheel, gears and brake disc was painted blue and hung above the bed. To the side of the bed is a framed picture of IJ on his new bike (another birthday gift from us).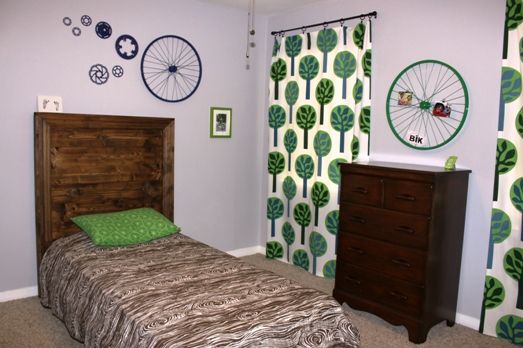 IJ's new bedding includes star sheets, a wood grain quilt and a green, bike wheel pillow sham. We ordered the sham fabric and a friend sewed it for us.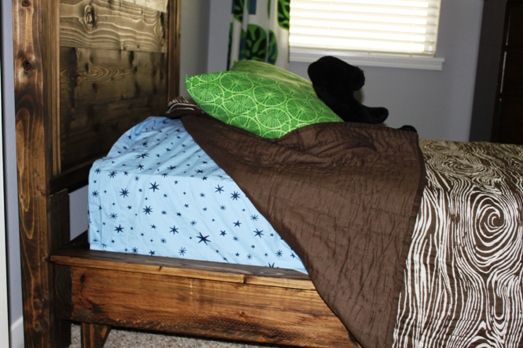 We hung an orange, magnet board above his play table and relocated his name right above it.
We ordered 3 bike prints to place above his bookshelf. The original art is made from old maps. We also gave him his first clock.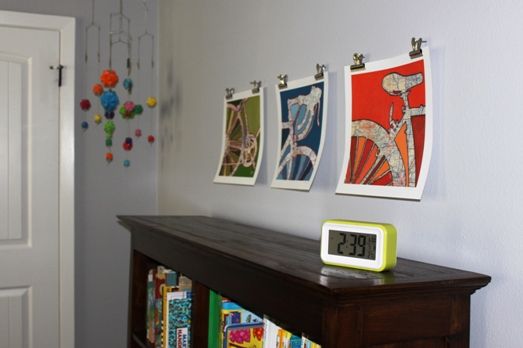 We hung a full length mirror in the closet (the only one in the house).