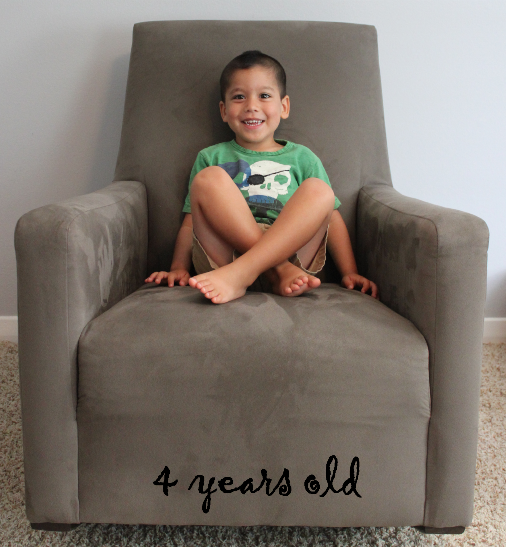 7.6.13
IJ now weighs 34 pounds and is 39 inches tall. He's a little guy at the 18th percentile for height and 33rd for weight. He is still in 3t clothes and size 8 shoe.
IJ finished preschool at the end of May and had a good year. He really enjoys school, his teachers and friends. We weren't planning on having him in summer camp at his school this year because at his age you have to pay for 5 days a week. Then the school director approached me and offered for him to go free of charge, so he's there 9 am to 1 pm Monday through Friday. At camp they swim daily with instructors, do arts and crafts, go to the gym, have music, judaics and more. It is a bit chaotic and I prefer the calmness of the regular school year. We are working at home to keep him learning since there isn't an educational focus at summer camp. We've been working on his counting, writing numbers and letters, drawing and other mental tasks. He will begin pre-K in August, his last year at this school.
IJ's interests are varied. He still likes vehicles, playing in his construction sensory bin and his tool set. He loves reading books and has so many things memorized. He is getting into real (small) legos and can even build simple structures on his own from the directions. He also still likes the large duplos. He will now play independently quite well. He knows he can't have little toys out while ZJ is awake so he is used to playing with those types of toys while she naps or alone with his door closed when she is awake. Outside he likes to ride his bike (with training wheels) that he we were given in March. He is now good on the regular swings and still enjoys the sand box and splash parks. He loved playing on the beach or in the pool on our Florida vacation last month.
IJ loves his sister and is rarely rough with her now. They find ways to play together everywhere including the car. He is affectionate with her and protective of her. We were worried about him hurting her after her surgery but for the most part he has remembered to treat her extra gently. He is showing maturity in his understanding that she is younger and should be treated differently.
IJ is doing great with his toilet use. He probably doesn't need any reminders but I think he holds urine too long so I still ask him to go periodically during the day. He can now stand to pee at home but seems to prefer sitting. He does always stand now at school though. He has no problems with pooping but oddly enough he still gets the urge to go mostly at meal time. I find this odd because it's what newborns do, I'd think he would have grown out of it by now. He uses the bathroom independently other than us turning the light on/off and wiping his butt. He wets the bed at night very rarely.
IJ sleeps from about 7/7:30 pm to 6:30/7:30 am. He undresses and dresses himself every night and morning. We brush his teeth but he follows up with additional brushing. I'd like him to be even more independent but he resists some tasks still.
IJ has not gone back to thumb sucking but did start touching his nose a lot and rubbing it with his stuffed dog or blanket. He has cut back on that a lot and I'm ignoring it now instead of asking him to put his hand down like I was at its peak.
The entire year all IJ had were frequent colds until a few weeks ago when he had some strange 24 hour virus. It made him extremely tired and he actually fell asleep on the couch which was basically his first nap in the house since we got rid of his crib over a year ago. He had a fever that afternoon and through the night. He slept late and seemed to feel better the next morning but was still sluggish for a bit. He was back to normal and his appetite was back by mid day.
Here's his 4th year at a glance. See last year
here
.
Here are the pics from his 1st, 2nd, 3rd and 4th birthdays.